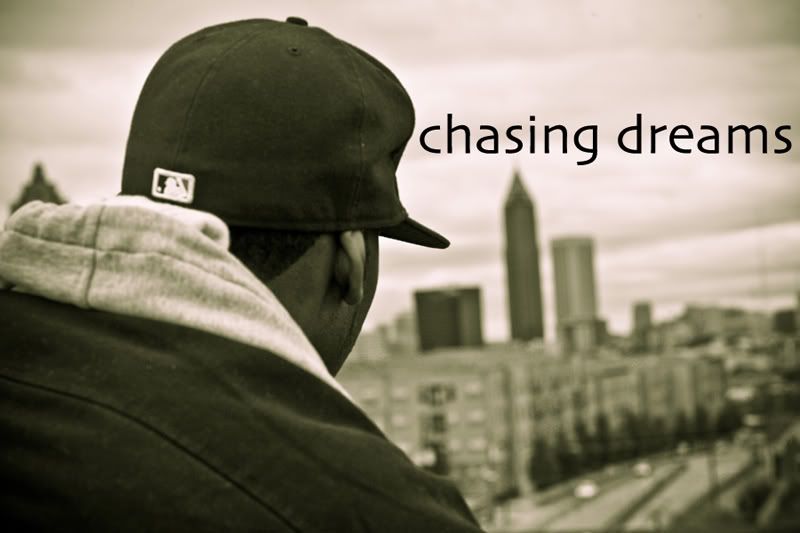 The wait is over. Today is the Day I drop the Chasing Dreams EP.
I started this process with just trying to get in touch with
Carlton Mackey
, take a few pictures, and hook up my
myspace
page. That's it. My mind was very limited at the time. I had one song at the time, Pavement Dreams. I didn't even know this world of bloggers even existed.
In four months, though my life has really changed for the best. It has all happened really fast, and I don't see it slowing down anytime soon.
I went from one song, to making a video, to opening up for a True and Real Hip Hop group(Shout out to
Collective Efforts
), to blogging, to meeting special people like you all -people who have not only inspired me to chase my dreams but helped me believe in my self.
My Confidence was not and my music was not on this level four months ago. Thank you so much for believing, listening, and following me as WE Chase our Dreams TOGETHER.
Today I'm not just dropping any old album. This is my life. These are my feelings -my thoughts. I cried making this album; I prayed writing these lyrics. I feel like through the process of making this album, I found myself...who I really am. I believe it will reflect, and you will hear it in my music.
I'm So Grateful. I like to thank all of my blog followers and ones who came to my blog and made comments. To Carlton Mackey who has believed in me since day one and took time out to do every thing he has done. I thank God for him because without him I would probably still be struggling as a artist rhyming about designer jeans and Air Jordans. LOL. So thank you my Brother. I want to thank God for blessing me with this gift of translating my feelings, my life, my dreams into words people can appreciate. And keeping me alive and sane to see this day. Everything happens for a reason.
I am Joshua Watkins. I am Chasing My Dreams. I Make Music To Help You Chase Yours.
CLICK HERE TO DOWNLOAD JOSHUA - CHASING DREAMS EP