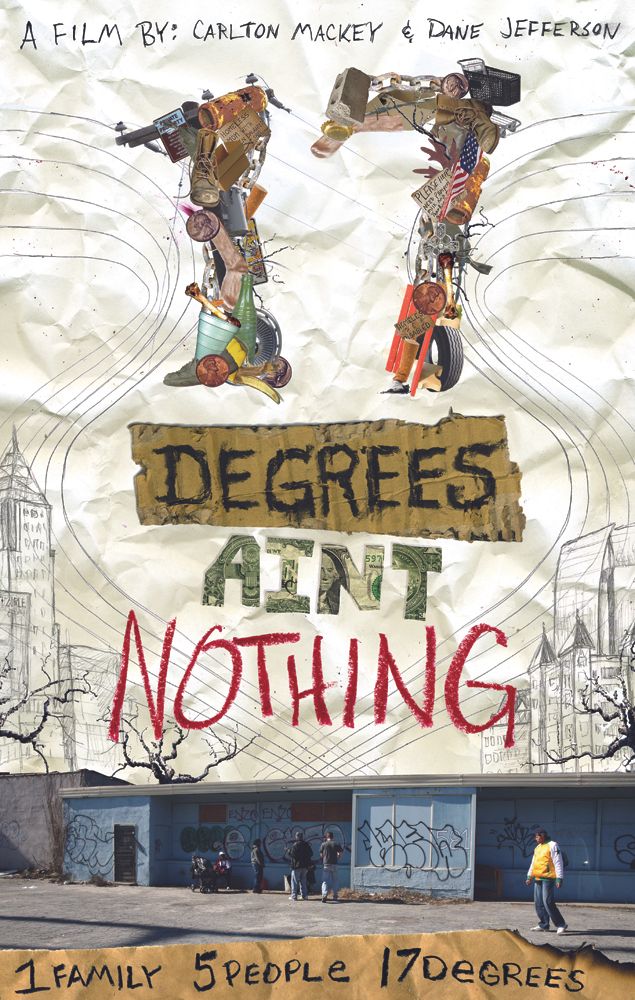 It's been a while right? But with good reason!! Well Carlton Mackey as you all know has been working on some big things alongside Extraordinary Artist Dane Jefferson. Dane created this dope poster for the film by the way! Carlton and Dane both worked on a documentary about homelessness and asked me to do a song for the soundtrack. With out seeing the film (only having a conversation with Carlton) I created the title track for the Film "17 Degrees Ain't Nothing". (CLICK HERE TO LISTEN) With the help and Production of Christopher Rhodes Jr, I was able to create this song. I am so excited and Grateful to be blessed to participate in such a great cause!!!

Soooooooooo the film was premiered on May 27th, 2010 at the Plaza Theater. It was the WonderRoot's Generally Local, Most independent Film makers night. I was so excited!!!! The night was warm with just a tad of Breeze. My dad was there, my girl was there, Christopher Rhodes Jr., Dane Jefferson, we were just missing Carlton who along with his wife were off on business. We held it down for them though!!!!!!!! LOL. The night was great; the people was great and the other films were awesome!!!! Some funny,some creative, and some was artistic.

But when our Film came on the whole mood changed. The theater got very quite. Real life hit us in the face. And I had goosebumps and chills when I heard my voice. You could feel the others people energy in the room like what everyone was thinking in the room. It added substance to the list of films being showed. I heard my words from my song and was sweating bullets. It was beautiful to see the individuals from the video speak upon what they were going through. It put life in perspective!!!! I am proud of Carlton Mackey and Dane Jefferson for doing something that others in the world fail to do.......... CARING!!!! I am so grateful to be involved in such a project. Thank you guys!!!! Really I am Speechless.......... But here goes!!!! Stay tuned!!!!